Welcome to our Agility Training OSRS Guide! Achieving 1-99 Agility can take up to 324 Hours of grinding. If you play 3 hours a day this could take almost 4 months to achieve. For just $324 & 40 Days, FancyHire can provide you the Agility Training Service you need. If not sit back and let us show you how to train it instead.

Agility is very important for the regeneration of stamina. At Level 1 Agility you regenerate stamina at a rate of 1% per 7.5 Seconds; At level 99 Agility it takes only 2.5 Seconds to regenerate 1% of your stamina! This allows you to traverse the RuneScape map with ease allowing you to breeze through the open world of RuneScape. There are also map obstacles & quests that require high level agility.

The reason 99 Agility is prestigious is that it takes a considerable amount of time to obtain. Therefore, most people can't achieve it. Here at FancyHire, we can provide super cheap and efficient Agility Power Leveling and many other skills. We specialize in all OSRS Power Leveling services available on the market.
---

Your Goal:
1-99 Agility
Cost:
Upto 324 Hours of Agility Grinding
Levels: 1-10 Location: Gnome Agility Course Time: 8.5 Minutes
From levels 1-10 you will need to achieve 1154 XP; this course offers 8000 XP/hr allowing you to achieve levels 1-10 in 8 and a half minutes. If you wish to achieve greater XP/hr then we here at FancyHire recommend bringing 4 dose energy potions. You can get to the Gnome Agility Course by using a grand seed pod, Spirit tree teleport, Gnome glider system or Ardougne teletab and running northwest to the agility course.

To skip agility and jump straight from 1-32 Agility, complete Recruitment Drive, The Tourist Trap, and The Grand Tree quest lines. The main requirements being Black Knight's Fortress, Druidic Ritual, 10 Fletching, 20 Smithing and being able to defeat a level 172 demon. Although It'll take you nearly 2 hours, It's free Agility experience.
---
Levels: 10-20 Location: Draynor Rooftop Course Time: 20 minutes
If you don't have a high hit point count or want to be on the safe side, we suggest bringing food as you can take considerable fall damage when failing at the course obstacles. Also, a regen bracelet is recommended. From level 10+ courses you will receive marks of grace randomly while skilling, we suggest that you pick these up as they will be super useful later to create the Graceful outfit.

You can get to the Draynor Rooftop Agility course via an Amulet of glory, Draynor manor teleport or Explorer's ring 2(cabbage teleport). You will need to achieve 3316 XP. This obstacle course offers 10K XP an hour and thus will take you approximately 20 minutes.
---
Levels: 20-30 Location: Al Kharid Rooftop Course Time: 1-2 hours
This is optional as you can continue using Draynor rooftop till level 30, but this course has a slight XP boost per hour in comparison. We suggest you use 4 dose energy potions when training this skill. Agility is very click intensive and slow at times, if you can't be bothered and would love that 99 then contact us and we can figure out a super cheap deal to get you from where you are in your agility level to where you want to be.

You can get to this course via Amulet of glory (Alkharid palace), Home teleport to Lumbridge run east to the toll gate, a ring of dueling. Just follow the picture below. To achieve level 30 from level 20 you will need to acquire 8893 XP. This course offers 10.5K XP an hour and will take you approximately 1-2 hours to achieve levels 20-30.
---
Levels: 30-40 Location: Varrock Rooftop Course Time: 2-3 Hours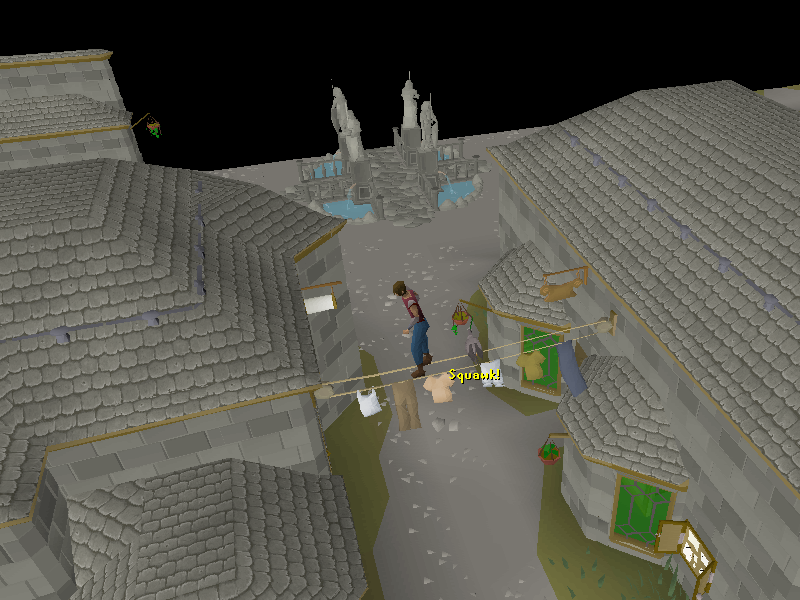 It is going to start getting longer and longer between every 10 levels! Why not employ FancyHire for your agility needs, we are very cheap and can finish your orders at lightning speed, if you have any questions feel free to talk to us today.

Varrock rooftop provides 13K experience per hour, and you can get to Varrock rooftop agility course via a Varrock teletab, Varrock teleport spell, amulet of glory (Edgeville) and run through GE shortcut, Ring of wealth (GE teleport). To achieve 30-40, you will need to obtain 23.8K XP. This will take you approximately 2-3 Hours.
---
Levels 40-60 Location: Canifis Rooftop Course Time: 19 hours
The next rooftop agility course on the list is the Canifis Rooftop course, It is located in the Canifis village and therefore can be reached easily with the fairy ring code C-K-S to east of Canifis. After completing the Ghosts Ahoy quest you can teleport using the ectophial teleport and run west to the Canifis rooftop agility quest.

You can achieve around 19K XP an hour running this rooftop agility course, thus it will take you approximately 19 hours to complete. This is because from 40-60 you need to acquire 236.5K XP.
---
OSRS Power Leveling Service
You may have noticed by now if you have been training this skill that it is going to start taking a very long time to get to 99 or any other high stats from this point on. Here at FancyHire, we can skill your account up to any desired level of agility within the fastest time possible! Look around the website and if interested don't hestitate to send us a Discord message. We offer Agility Training for OSRS and we also offer Power leveling services for other skills as well! We are the #1 OSRS Power leveling team on the internet!
What does the service provide?
Can provide OSRS Agility Training for as little as $1/hr
Provide a fast and reliable service
We are the #1 trusted service online and will go above and beyond anything you could expect

---
Levels: 60-90 Location: Seer's Village Rooftop Time: 142 Hours
Seer's village rooftop agility course requires the quests Kandarin Hard Diary to be effective in its XP/hr as it allows you to teleport directly in front of the start of the course. So first complete everything you need to do to complete that quest. Now that is out of the way we can start the agility course, it will reward you with 55K experience per hour! And to achieve 90 from 60 you require a little over 5 million XP. This means it would take you approximately 142 Hours to achieve 60-90 agility.

To get to the start of the course you can use the Camelot teleport and run west, with the Kandarin hard diary's quest complete you can set it, so you teleport directly in front.
---
Levels: 90-99 Location: Ardougne Rooftop Time: 177 Hours
The final course you will be grinding out to that sweet 99 agility cape and skill level is the Ardougne rooftop agility course. This course offers the most XP an hour out of all the courses and therefore will be the final course on this list to 99 agility. You can expect to achieve an average XP rate of 62 thousand per hour, thus taking 177 Hours to do levels 90-99.

You can teleport using the Ardougne teletab or the spell teleport. This may seem like a long time, and it is. The way to solve this is by paying a small amount and letting the professionals here at FancyHire to do the grind for you. FancyHire is the #1 OSRS Power leveling group worldwide currently and for the future to come for as long as we operate.

This means going from 1-99 it will take you around 375 hours; WOW, this is a long time so if you feel overwhelmed, you don't really like agility or you just don't have the time then feel free to contact us and we can sort a deal out and you'll have that 99 agility in no time!
---
Agility Training OSRS – Congratulations! You are now a master of agility with a super prestigious cape!!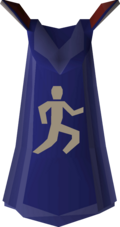 Just a closing note, if you have enjoyed the Agility Training OSRS Guide, feel free to let us know and share it with your friends as it helps us folks here at FancyHire out more then you realise! Have a great day and we wish you luck on your Agility leveling quest for 99. Godspeed on your Agility Training OSRS.